Everything You Need to Know about the 2019 Alfa Romeo 4C Spider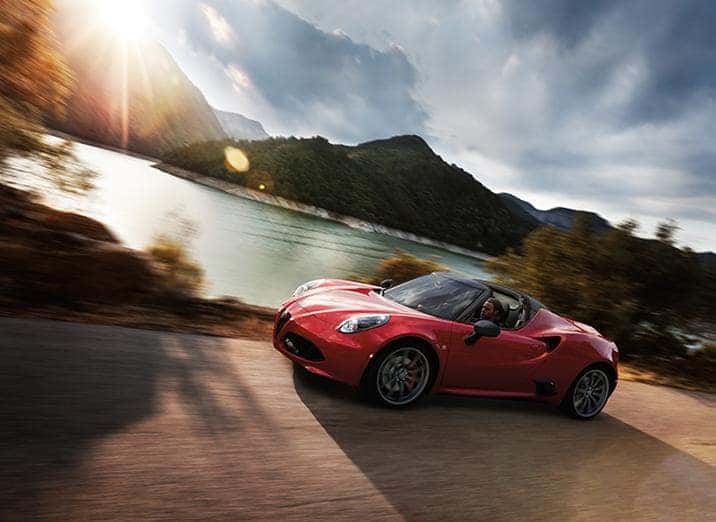 You can't go wrong blending sexy Italian designs with supercar performance. And that's exactly what the 2019 Alfa Romeo 4C Spider brings to the table. In essence, you're getting a track-capable car to drive on your local highways. So, with that said, let's see everything fun this luxury sports car will do for you.
Built for Navigating the Track and Highways
Under the hood of this Italian beauty sits a 1750 turbocharged 4-cylinder motor. And just as you'd expect from a track-capable car, you're getting some impressive power here. Specifically, this engine packs 237 hp and 258 lb-ft torque. That all amounts to a 0-60 mph in a rapid 4.1 seconds. And with a top speed of 160 mph, this car isn't lacking in performance by any sense of the word. Instead, these are specs you'd find at your local racetrack.
To make your drives as smooth as possible, you'll choose from a variety of drive modes to cater to your style and pace. Specifically, you can select Dynamic, Natural, All-weather and Race modes depending on your mood and drive.
Also aiding in making your drives as easy as possible are the two driver assist features. Cruise control feels like a dream for longer drives. Meanwhile, the rear parking sensors will help you pull out of the tightest of parking spaces without scuffs or scratches.
All in all, if you're looking for a fun drive, the Alfa Romeo 4C Spider is here to offer just that.
Italian Craftsmanship at Its Finest
Just one look at the 2019 Alfa Romeo 4C Spider and you'll see nothing but automotive beauty.
Once inside, you'll feel every design choice is deliberate. For example, the top-down aesthetic is perfect for any summer afternoon. You'll find there's nothing that can rival the experience of driving while open air and natural rays pour in from above.
To improve this design, you can even opt for carbon fiber accents. And with that top-down design, that carbon fiber looks downright sleek.
Inside, the leather-trimmed seating creates a refined and sporty appearance. The seating and stitching even come in a variety of colors. So be sure to pick the set that matches your style perfectly.
Also, don't forget that sport-tuned chassis. With this design, even your morning commutes will feel like a lap around the track. And that carbon fiber monocoque creates a sturdy, yet lightweight frame that optimizes performance.
If you really want to show off your 2019 Alfa Romeo 4C Spider, be sure to pick up a model with the available sport exhaust. This ensures your engine releases those powerful growls and informs the road of this Italian beast's potential.
Test Drive the 2019 Alfa Romeo 4C Spider at Alfa Romeo of Morris County in Whippany, NJ
Ready to get behind the wheel of an epic luxury sports car?
Then head to your local Alfa Romeo dealer in Whippany, NJ. At Alfa Romeo of Morris County, our team of product specialists is more than happy to assist you in finding the right Alfa Romeo 4C Spider to fit your style.