2019 Alfa Romeo Stelvio Quadrifoglio Features and Specs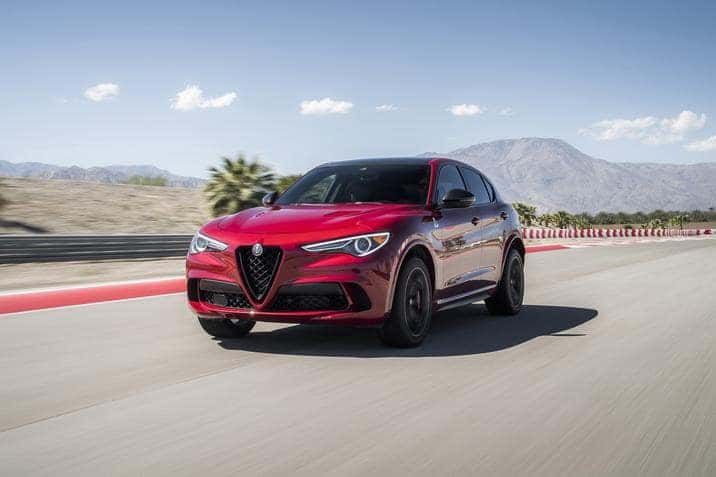 It's not every day you find an SUV with the engine of a race car. But that's exactly what you'll get with the Alfa Romeo Stelvio Quadrifoglio. In fact, with 505 hp, you already know this luxury SUV can keep up with the best. And to make matters all the better, you'll find endless amounts of luxury and sleek designs on the inside. Excited? Then let's take a closer look at what this powerhouse SUV will do for your drives.
Italian SUV Built for the Racetrack
With an all-aluminum 2.9L twin-turbo V6 engine, the Alfa Romeo Stelvio Quadrifoglio means business.
This motor packs a massive 505 horsepower and 443 lb-ft torque. As far as performance goes, it was more than enough to complete a Nurburgring lap in 7:51.7. That's faster than most sports sedans and SUVs you'll find today.
When driving this powerful SUV, expect a 0-60 in a speedy 3.6 seconds. Again, that's supercar speed in an SUV.
Alfa Romeo also threw in a few different drive modes to fit your commute and mood. Dynamic, natural, advanced, efficiency and race modes all offer a completely different drive style. If you're looking to experience every bit of power that motor has to offer, be sure to set that rotor to race mode.
You also can't forget about the Active Suspension. This feature detects any bumps in the road and absorbs them with ease. So, you'll always get a smooth ride to go along with all that power.
When it's time to come to a stop, the Integrated Brake System has you covered. With this feature in place, you'll find your Alfa Romeo Stelvio Quadrifoglio stopping in minimal distances effortlessly.
Combining Speed with Fine Luxury
Step inside this sporty SUV, and you'll find plenty of luxury, comfort, and sleek style.
For starters, you'll get an 8.8-inch widescreen display. This is where you'll access controls for the radio, media, your phone, navigation, and plenty more apps to ensure your ride remains smooth and comfortable.
To make your drive as fun as possible, The Alfa Romeo Stelvio Quadrifoglio includes a 14-speaker audio system. Every sound is as clear as possible. Plus, the included subwoofer sends sounds traveling through your cabin with dynamics you never thought possible.
For even more comfort, front seat riders will receive 14-way power leather and Alcantara sport seats.
To make matters better, you'll find carbon fiber accents throughout the cabin. It really creates an upscale and sporty atmosphere for your luxury SUV.
Test Drive the 2019 Alfa Romeo Stelvio Quadrifoglio today at your Alfa Romeo dealer in Morris County
Do you want to get behind the wheel of one of the world's fastest SUVs?
Then head to Alfa Romeo of Morris County. Here, you can test drive the Alfa Romeo Stelvio Quadrifoglio and experience its power for yourself. And if you decide you want one today, be sure to check out our financing options to find the best plan for your budget.